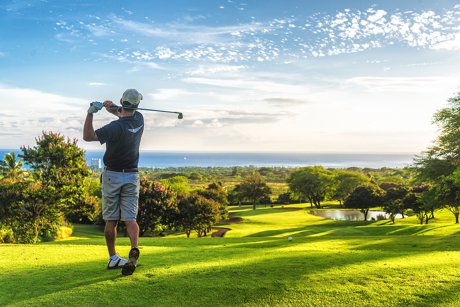 Great games of golf are played right in the neighbourhoods of Nanoose Bay homes. At Fairwinds Golf Club beautiful vibrant greens, ocean views amongst rolling hills, and thick shady trees surround a championship course. Water traps and clever designs present a challenge for all levels of players. Friends tease and have fun with each other regularly over eighteen holes of superb play. Practice makes perfect on the driving range swings are definitely perfected. Open year round, heated stalls keep players warm during the cold winter months.
Players Living in Nanoose Bay Pursue Excellence
Golfers living in Nanoose Bay may want to kick it up a notch. Those seeking to improve key elements in their game can take advantage of expert instruction offered. Group lessons feature 3 to 8 students. Keeping gatherings small ensures a better learning environment and more one on one time with the instructor. Special classes are designed just for the ladies making perfect outings for the girls. Private tutelage is also available on request for individuals and small groups. Youngsters seeking to learn the sport enroll in state of the art junior lessons and camps. In no time at all young golfers will impress their elders with amazing skills.
After the game it's often fun to reminisce over spectacular shots and balls going kerplunk into the water or sinking into a sand trap. Laughter and groans ring true at the Fairwinds Bar & Grill. Players toast one another while discussing details of the day. An ever changing menu features high quality ingredients locally sourced whenever possible. Many families from Nanoose Bay homes stop into the restaurant regularly for Sunday brunch. From 9 a.m. to 2 p.m., the Sunday Brunch menu features traditional egg dishes, fresh fruit and waffles.
Fairwinds Golf Club is open 365 days a year. So, when the moment strikes break out the clubs and take on the course. Book a tee time today and head on out.